Last edited by DualMeiphen on Mon 03 Jun 2013, 02:21; edited 13 times in total



Join date

: 2012-12-03


Age

: 18


Location

: Venezuela






Join date

: 2012-12-03


Age

: 18


Location

: Venezuela



Congrats You have won and proceed to take my FistBadge thingie ma Jig



Join date

: 2013-05-16



Congratulations DualMeiphen, brother.
You've won the ShadowWing badge from the flying gym. Good job dude, you never come short, that's why we've come so far on this, I'm sure you will make the league in 2 or 3 days as much as well as the other gym leaders appear. Never turn down.
ShadowWing Badge (Flying) - Recieved from Flying Gym Leader RaphaniacZX: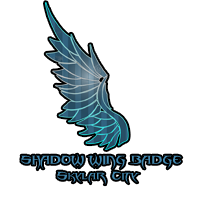 Last edited by RaphaniacZX on Sat 01 Jun 2013, 02:18; edited 8 times in total



Join date

: 2013-06-01


Age

: 21


Location

: Houston, TX



It looks like you took on my Ice Team to secure a bold victory.
For your impressive work and sheer power in battle against my Pokemon, you have
earned yourself this badge
:
Good luck with the rest of your journey! You're one step closer to reaching the Champion's spot!
Admin




Join date

: 2012-07-03


Age

: 26


Location

: New York


-----------------------------------
Enfu's Badge Collection:
Combustion Badge (Fire)
Smash Badge (Ground)
Martial Badge (Fighting)
Glimmer Badge (Ice)
Draconis Wing Badge (Dragon)
Kinetic Badge (Electric)
Drizzle Badge (Water)
Rocky Badge (Rock)
Regular Badge (Normal)
Silk Badge (Bug)
Regal Badge (Grass)
Sky Badge (Flying)
Esper Badge (Psychic)
Metal Badge (Steel)
Haunter Badge (Ghost)
Lurid Badge (Dark)
Venom Badge(Poison)
-----------------------------------



Won the Power badge( nice game that was xD)



Join date

: 2013-05-13



You've Earned This!

[Insert Badge Here]



Join date

: 2013-05-31


Age

: 23


Location

: New Jersey



You have won the Sandhog badge, eating it will not be a wise idea no matter how much it looks like bacon.

_________________
The art of Flan that is not in a can.



Join date

: 2013-05-16


Age

: 21



_________________



Join date

: 2012-08-07


-----------------------------------
Pain's Badge Collection:
Glimmer Badge (Ice)
Esper Badge (Psychic)
Silk Badge (Bug)
-----------------------------------




Similar topics
---
Permissions in this forum:
You
cannot
reply to topics in this forum