Challenger: Ace Trainer Salt

Skarmory (Muhahahaha

Infernape (Inferderp)

Latias (Dat Bulk)

Volcarona (Uh-Oh)

Espeon (Psycho Ninja)

Riolu (Riolu Man)

Badges:



Join date

: 2013-05-18



It looks like you took on one of the harder gyms to secure your first badge.
For that manageable victory, you have
earned yourself this badge
:
Good luck with the rest of your journey! You're one step closer to reaching the Champion's spot!
Admin




Join date

: 2012-07-03


Age

: 28


Location

: New York


-----------------------------------
Enfu's Badge Collection:
Combustion Badge (Fire)
Smash Badge (Ground)
Martial Badge (Fighting)
Glimmer Badge (Ice)
Draconis Wing Badge (Dragon)
Kinetic Badge (Electric)
Drizzle Badge (Water)
Rocky Badge (Rock)
Regular Badge (Normal)
Silk Badge (Bug)
Regal Badge (Grass)
Sky Badge (Flying)
Esper Badge (Psychic)
Metal Badge (Steel)
Haunter Badge (Ghost)
Lurid Badge (Dark)
Venom Badge(Poison)
-----------------------------------



you deserved this badge for being a good battler and good strategies,

Good luck on your future battles



Join date

: 2013-05-16



Congratulations! here is your badge, good luck on the rest of your journey

[Insert Badge Here]



Join date

: 2013-05-31


Age

: 25


Location

: New Jersey



Congratz bro, you win the Cosmic Badge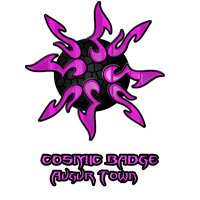 Join date

: 2012-12-03


Age

: 20


Location

: Venezuela



You win the Fissure Badge You are  one of  thefirst  to actually  beat me at my gym you deserve it



Join date

: 2013-05-16



Challenger: Ace Trainer Salt

Skarmory (Muhahahaha

Infernape (Inferderp)

Latias (Dat Bulk)

Volcarona (Uh-Oh)

Espeon (Psycho Ninja)

Riolu (Riolu Man)

Subs: Latios ( Don't blink)



Join date

: 2013-05-18





Similar topics
---
Permissions in this forum:
You
cannot
reply to topics in this forum